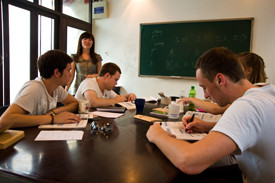 Thanks to our co-operation with a certified HSK centre, we offer our students the chance to take the HSK test every month. For more information about the different levels please visit our HSK Levels page.
Have a look below to find out when the exact dates of each HSK test are. Take note of the registration deadline for each exam.
We also offer HSK preparation courses each month to our students.
For more information, please write us or call us on the following number: (+86) 10 8448 9799!
If you are interested in the HSK Preparation classes at Hutong School
or you have any other questions, please contact us
or call us in Beijing (+86) 10 8448 9799 or Shanghai (+86) 21 6095 8317!